Dr. Winston Forbes, President
Dr. Frank Bartlett, Vice President
Dr. Tamara Burke, Treasurer
Dr. Catherine Adderley, Executive Dental Representative
Dr. Carlos Thomas, Secretary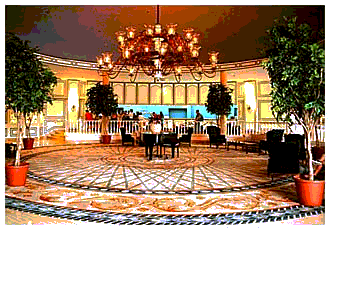 RESORT AT BAHAMIA
Camelot Room
Freeport, Grand Bahama
October 19th - 20th 2001


The Conference is this coming weekend!

We invite the participation of all health care professionals, not only in Freeport, but also from Nassau and all the other Bahama Islands.

Most of our sponsors have made commitments, but it is not too late to sign up if you have not done so already!

Exhibitor Booths - $500

REGISTRATION FEES

Financial Members - $100.00
Non Financial Physicians- $150.00
Pharmacists - $75
Junior Doctors - $50



Please make cheques payable to
THE GRAND BAHAMA MEDICAL & DENTAL ASSOCIATION
c/o Dr. Tamara Burke
P. O. Box F- 42533
Freeport, Grand Bahama



October 19th , 2001

6.00pm Registration

Moderator Dr. Rudolph Francis

7.00 p.m. Opening Remarks Dr. Winston Forbes

7.15p.m. Minister of Health Dr. Ronald Knowles


7.30p.m. Dysfunctional Family
Depression
Child Abuse
Substance Abuse Dr. Samuel Hastie

8.15p.m. Breast Cancer Dr. Theodore Turnquest

8.45p.m Q & A

9.00p.m Closing Remarks Moderator

9.15p.m. Refreshments



October 20th, 2001

Moderator : Dr. Frank Bartlett

8.30a.m. Hypertension Dr. Hafeezul Mohammed

9.00a.m Diabetes Update Dr. Sebastian Peter

9.30a.m. Hypercholesterolemia Dr. Patrick Cargil

10.00a.m. Q & A


10.10a.m. Break


Moderator : Dr. Tamara Burke

10.25a.m. Transplant in Grand Bahama Dr. Robin Roberts

10.50a.m. Intracranial Hemorrhage Dr. J. Abubaker

11.20a.m. Update in Emergency Medicine Dr. John Braden

11.50a.m. Q & A

12.00p.m. Lunch


Moderator : Dr. Mandy Pedican

1.15p.m. House Officer Case Presentation


Moderator : Dr. Catherine Adderly

2.00p.m. Preventive Dentistry Ms.L. Thomas

2.25p.m. Oral Surgery Dr.M. Rashaad

2.50p.m. Q & A


2.55p.m. Break


Moderator : Dr. Carlos Thomas

3.05p.m. Systemic Lupus Erythematosis Dr. Vincent Nwosa

3.35p.m. Contraceptive Use in Grand Bahama Dr. Paul Ward

4.05p.m Conjunctivitis Dr. Duranda Ash



Moderator : Dr. Ellis Amadasun

4.30p.m. Bahama Health

4.40p.m. Northridge Medical Center

4.50p.m. Atlantic Med

5.00p.m. Q & A

5.10p.m Closing


7:00PM

BANQUET AT OUR LUCAYA

Guest Speaker
Mayor Bill Campbell
Mayor of Atlanta, U.S.A.


Send us mail